Lower your property taxes!

Did the tax assessor overvalue your property? At PropertyTaxBill.com we find solutions including property tax relief, for your property valuation challenges.

Property tax assessments may be inaccurate for a multitude of reasons. Common issues with property values include measurement inaccuracies, computational mistakes, zoning classification errors, etc. Through analysis and communication, we assist you in achieving accurate property values for your property(s).
We Can Help
PropertyTaxBill.com answers these key questions every assessor will ask:
What is your property worth?
Why is your property worth less than the tax assessor's value?
What evidence exists to support a reduced valuation?
A clear understanding of the intricacies and methodologies used by property tax assessors in property valuation i.e. tax assessment, is crucial in communicating with assessors. At PropertyTaxBill.com we work with you to determine if compelling reasons exist to lower your property value; we then substantiate our position with tangible evidence to lower your property tax assessment. Conversely, if we feel the property tax assessor has accurately valued or under valued your property, we will tell you.

Challenge your commercial property taxes now, CLICK HERE.

Learn how to lower your property assessment by choosing one of the eight pictures above that addresses your specific situation or by viewing the videos on the right side of your screen. 

Overview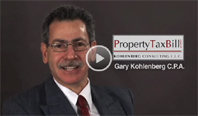 Call us at (262) 569-1800